Unsere Freunde von Blue Infusion haben sich etwas Tolles ausgedacht!
Wann? – Samstag, 6. April 2019 von 21:00 – Blues-Einführung, 22:00 Party
Wo? – Bewegungsraum – Fabrique im Gängeviertel, Valentinskamp 34a
* blues * zouk * tango * forró * WCS * contact improv * kizomba * your favorite dance * whatever *
Come and fuse with us!
This is the first of a long-desired sequence of events aimed at the exploration and development of fusion dancing in Hamburg. It is inspired by alt-blues and fusion dancing around the globe.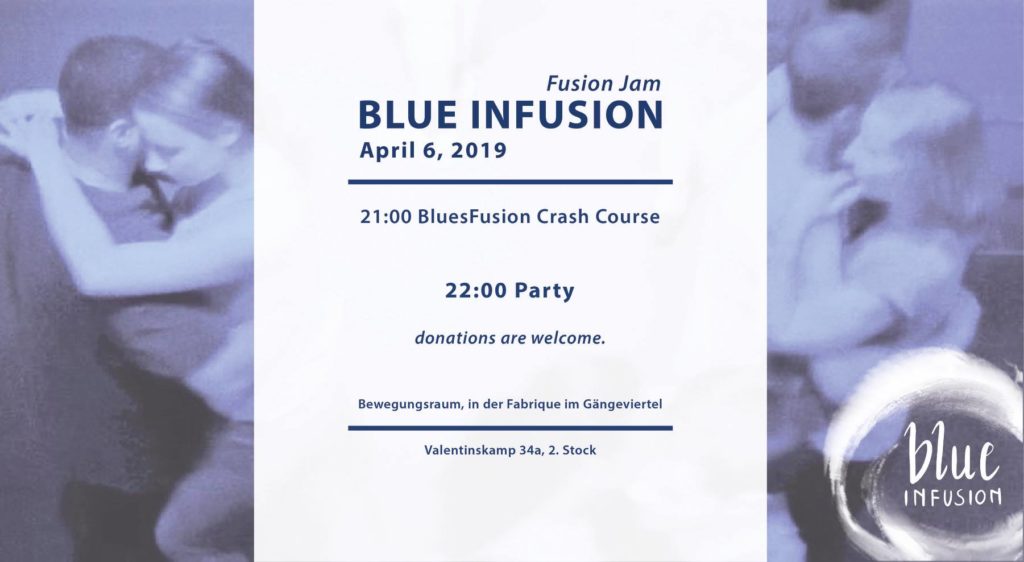 Dancers of all dances are welcome to meet, connect, communicate, and dance together to a variety of music. We want to explore our capacities to have a creative flow in partner dancing, to communicate and connect in multiple dance languages, to build bridges with each other, and to dive into this sweet infusion together.
Fusion dancing was developed in the States and inspired profoundly by blues dancing. Blues, as a partner dance, involves several techniques to maintain communication while giving a lot of space for improvisation. While blues is a wonderful dance as such, it also inspires a philosophy of freedom and emancipation in general. We want to keep this historical link in mind and let our dance infusion become a little blue.
The party will start with an open level introduction to blues dancing. The basics of connection and communication will be introduced by Elke, a blues and fusion dancer from Lille.
Starting at 10PM, we can give in to the rapture music produces in all dancers – independent of their background.
The music played, carefully selected by Schali and Jascha, will be suitable for all kinds of dancing, featuring alternative and electronic beats, instrumental narratives, spheric compositions, African and Brazilian vibes, and more specific sounds related to blues, forró, zouk, neo-tango, kizomba, WCS.
---
This event is organized by Blue Infusion in cooperation with
Norte, dance – Forró in Hamburg
Special thanks to Evelyn, Renate, and Flo 🙂
Party: Blue Infusion – Sa, 06.04.